TESTIMONIALS
"Beautiful, like fingerprints or wax seals"
Gary Dault. Canadian Art critic referring to 'Oak Forest'
"Wonderful to have a Celebrity living in the Building"
Lynn Samuels. Landmark Manager
Read Full News Story
"I would like to thank you for sending the images of the three paintings that make up your Celebration Triptych. I appreciate the spirit in which you have shared your works, and I embrace the sentiments which are expressed through them: inclusiveness and ensuring a brighter future for everyone."
Kathleen Wynne – Premier of Ontario - Toronto, Canada
"Your work is beautiful. It is an honour for me to meet an Artist like you."
Lucy Babayan. Interior Design Consultant. Barrymore Furniture
"Your paintings are marvellous. I remember painting equally although less proficiently many years ago and am trying to return to that state of art and you have indeed inspired me. I look forward to seeing more and doing more myself."
Allyson Ransthorn Waupoos – Prince Edward County, Ontario, Canada.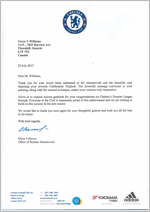 Click here to read a letter from Chelsea Football Club
"I`m pleased as Punch that Gwyn has endorsed me"
Michael McEvoy, Artist - Shady Nook, Nottingham UK.
"Wow. His colours make a room come to life"
Anni Wakefield – Manchester, England
"I think your work is stunning."
Josh Bensimon – Toronto, Canada
"Your web-site is a lovely thing to behold. I like the paintings a lot and find it surprising that after writing about art for 40 years I don`t know anything about your work."
Gary Michael Dault
"Gwyn`s work brings out an awful jealous streak in me…..I want to paint like him."
Wendy Wardle – Victoria, B.C
"Thanks for the Triptych Image,it looks great, fantastic and I look forward to seeing more of your work soon."
Francine Lemieux – Toronto Image Works, Canada