Drift

The main canvas is oil and is 48" x 72". On each side of the main canvas are 12 circular convex canvases based upon sunrises and sunsets over 24 months, each measuring 12" diameter.
The beautiful word 'drift' come from Old Norse and has many meanings - to stray, deviate, skid, to drive cattle or sheep, a movement sometimes accidental as a glacier.
To digress, a drift of bluebells, wind, understanding, indecision, meaning, retreating, to drift apart, to be blown, scope, a current of water, a slow movement or variation, a drift of daffodils.
Technique.
After the initial colours are laid and completely dry new colours are added by vertical and horizontal brush strokes which superimpose to create new tones, sometimes 4 or 5 and offer some lovely surprises.
Click on the thumbnails to view images of detail and technique: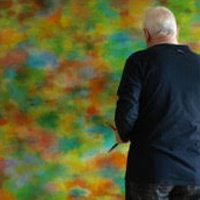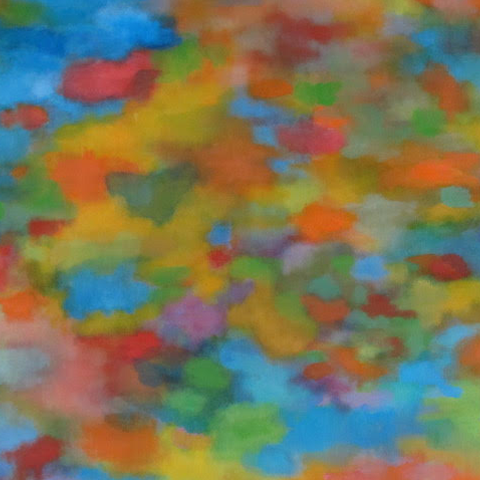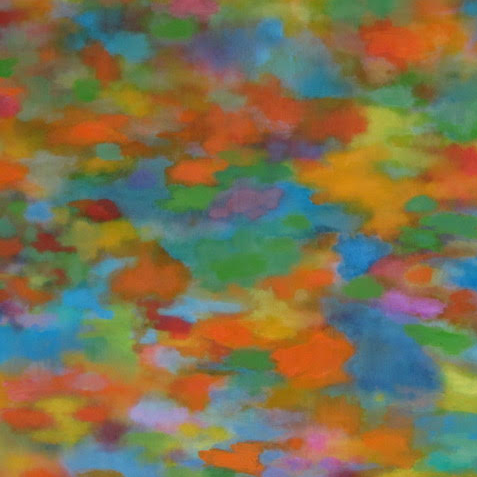 Any queries please click here to contact me.
Testimonials About 'Drift'
"Thank you Gwyn. What a great title for your work you can sense and feel the movement"
Chris Huby, New Way Graphics - Visit the site
"Amazing a masterpiece"
Gregory Blake
"'DRIFT' does have tranquility and I am minded of lying on my back in a wood on a fine day in autumn with my glasses off. "
Len Threadgold. Chairman &Chief Engineer. Geotechnics Limited. UK.
"There is a lovely Welsh word called HIRAETH which translates as a `longing for the homeland` and Drift does it for me, growing up in between the ocean and soft rolling hills of the Clwydian Range.
Gwyn's painting `DRIFT` is an artwork for healing and to reflect and meditate."
Wendy Wardle. Victoria B.C